2019 Humanity Awakening Tour
Facilitated by Cynthia Robinson and Roman Hanis
April 17 - June 10, 2019
The Paititi Institute for the Preservation of Ecology & Indigenous Culture will be traveling through the United States April – June 2019! Below you will find an overview of our tour. Be sure to save the dates. More information on all events as well as registration links will be added soon!
Our organization is dedicated to the preservation of ecology and indigenous culture in Peru where it was founded over 10 years ago as a non-profit, following strict international guidelines. All the funds earned on our tours and Peru retreats are allocated to initiatives stemming from the work of our founding members who've lived alongside Amazonian and Andean communities for the past 20 years. Currently our institute is responsible for stewarding a 4,000 acre nature reserve which is a buffer zone to the Manu national park where some of the last uncontacted tribes in the world are located. It's a big responsibility to protect the area from illegal mining, logging and trespassing activity.
A documentary about Paititi Institute was made some years ago by a team of professional journalists, covering our work conducted alongside our long-time native Amazonian friends and elders. The focus of the documentary was the healing approach for people with serious health conditions such as cancer, diabetes and parkinson among others and can be found here: https://www.thesacredscience.com/film/.
Paititi Institute organizes annual natural medicine clinics in conjunction with local municipalities, providing free natural healthcare for hundreds of people in rural areas of Peru where communities have become dependent on western pharmaceuticals, actively encouraging the return of the ancestral natural healing heritage. The indigenous elders we've worked and studied alongside for decades very much encourage us to share this work in recognition of the fact that it's needed in the world now more than ever.
The indigenous wisdom we've been entrusted to carry goes beyond appearance, identity, race and gender. It is the direct wish of our elders to make it available for all people to awaken from the dream of separation that causes the illness of possessiveness and discord. In the face of old age, sickness, loss of loved ones and death, everyone equal. These are the universal rites of passage no one can claim to themselves. In these perilous times, the advice of our elders we find most meaningful is to let go of arguments and quarrels of what belongs to whom and find the meaning of the shared heart beyond borders, to care for each other and this one earth we all belong to.
Join us in breathing the ancestral wisdom alive involving lineages of the Amazon, Andes and Tibet for embodied practice and grounded integration.
Below you will find an overview of our tour. Be sure to save the dates.
MEXICO 
CANCELED
Thursday, April 18th-Sunday, April 21st
Valle de Bravo: Form & Formless Retreat
Location: Canto del Colibrí, Valle de Bravo
Time: Thursday 5pm-Sunday 4pm
Learn More >>
Invite friends via Facebook >>
COLORADO
Friday, May 3rd
Crested Butte, CO: Amazonian/Tibetan Primordial Breathwork w/ Ceremonial Cacao
Location: Fitness Room, Town Hall
Time: 6 – 10pm

Learn More >>
Invite friends via Facebook >>
Sunday, May 5th
Gunnison, CO: Dreamwork, Tea & Creative Evolution
Location: 513 South Main, Gunnison
Time: 9:30am-5pm (Lunch & Tea Ceremony Included)
Learn More >>
Invite friends via Facebook >>
OREGON
Tuesday, May 7th
Portland, OR: Amazonian/Tibetan Primordial Breathwork w/ Ceremonial Cacao
Location: The Little Church 5138 NE 23rd Ave
Time: 6-10pm

Learn More >>
Invite friends via Facebook >>
Wednesday, May 8th
Portland, OR: Awakening Presence Through Dreamwork & Tea
Location: OneDoorLand Synergenius Stew+Dios
Time: 6-10pm

Learn More >>
Invite friends via Facebook >>
Friday, May 10th-Monday, May 13th
Oregon Form & Formless Retreat
Location: Dancing Tree Sanctuary, Corbett, OR
Time: Friday 5pm-Monday 4pm

Learn More >>
Invite friends via Facebook >>
COLORADO
Wednesday, May 15th
Denver/Boulder, CO: Breathing Ancestral Wisdom Alive [Talk and Q&A by Roman Hanis]
Location: Wheat Ridge, CO
Time: 6-10pm

Learn More >>
Invite friends via Facebook >>
Thursday, May 16th
Denver, CO: Amazonian/Tibetan Primordial Breathwork w/ Ceremonial Cacao
Location:  Journeys for Conscious Living  7401 W 59th Ave, Arvada
Time: 6-10pm
Learn More >>
Invite friends via Facebook >>
ILLINOIS
Sunday, May 19th
Chicago, IL: Amazonian/Tibetan Primordial Breathwork w/ Ceremonial Cacao
Location: YogaView 2211 N Elston Ave #200
Time: 6-10pm

Learn More >>
Invite friends via Facebook >>
MICHIGAN
Tuesday, May 21st
Ann Arbor, MI: Breathing Ancestral Wisdom Alive [Talk and Q&A with Roman Hanis]
Location: Crazy Wisdom Community Room 114 South Main Street
Time: 5:30-8:30pm
Learn More >>
Invite friends via Facebook >>
Wednesday, May 22nd
Ann Arbor, MI: Amazonian/Tibetan Primordial Breathwork w/ Ceremonial Cacao
Location: A2Yoga 2030 Commerce Blvd
Time: 6-10pm
Learn More >>
Invite friends via Facebook >>
Friday, May 24th – Monday, May 27th
Ann Arbor, MI: Primordial Breathwork Immersion Retreat
Location: TBA

Learn More >>
Invite friends via Facebook >> 
NEW YORK/MASSACHUSETTS

Friday, May 31st
New York, NY: Breathing Ancestral Wisdom Alive [Talk and Q&A with Roman Hanis]
Location: The Assemblage NoMad, 114 E 25th St, NYC
Time: 7-10pm

Learn More >>
Invite friends via Facebook >> 
Saturday, June 1st
New York, NY:Amazonian/Tibetan Primordial Breathwork w/ Ceremonial Cacao
Location: Gibney Dance 280 Broadway (enter @ 53A Chambers), Studio D
Time: noon-4pm
Learn More >>
Invite friends via Facebook >> 
Monday, June 3rd
New York, NY:Amazonian/Tibetan Primordial Breathwork w/ Ceremonial Cacao
Location: Gibney Dance 280 Broadway (enter @ 53A Chambers), Studio V
Time: 6-10pm
Learn More >>
Invite friends via Facebook >> 
Tuesday, June 4th
Great Barrington, MA: Amazonian/Tibetan Primordial Breathwork w/ Ceremonial Cacao
Location: Sruti Berkshire Yoga Center 33 Railroad St
Time: 6-10pm

Learn More >>
Invite friends via Facebook >> 
Wednesday, June 5th
Northampton, MA: Amazonian/Tibetan Primordial Breathwork w/ Ceremonial Cacao
Location: 11 Bright St., Northampton, MA
Time: 6-10pm

Learn More >>
Invite friends via Facebook >> 
Friday, June 7th- Monday, June 10th
Catskill, NY: Form & Formless Retreat
Location: Catskill, NY
Time: Friday 5pm- Monday 4pm

Learn More >>
Invite friends via Facebook >> 

Facilitators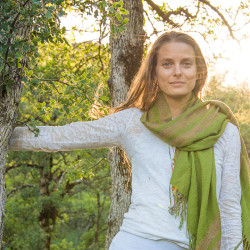 Cynthia Robinson
Since childhood, Cynthia Robinson has had a deep love for nature and natural healing. She always knew she would devote her life in service to the healing of people and the planet. Cynthia got her BA at the University of Michigan School of Art and Design with a focus in Design, Communication and Creative Problem Solving. After graduation, she pursued her passion to bring deeper values for nature and humanity…
Learn more about Cynthia Robinson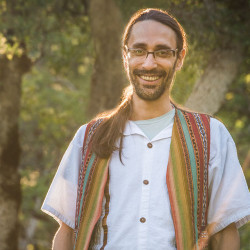 Roman Hanis
Roman Hanis has been working closely with the indigenous Peruvian cultures in the Amazonian rainforest and Andean mountains since 2001. During this time he has devoted this life to learning the ancient healing ways of these cultures while seeking possibilities for creating ecological sources of sustenance for local populations and working to preserve the rainforest and its spiritual heritage of sacred medicinal plants. Seeing the vital role that ancient cultural…
Learn more about Roman Hanis