2018 Planetary Awakening Tour (USA)
Facilitated by Roman Hanis and Cynthia Robinson
April 7 - May 15, 2018
---
Join us in a location near you! Throughout this journey we will dive in deep, connecting with our unlimited human potential. Drawing on wisdom of the indigenous cultures of the Amazon, Andes, and Tibet we will be offering breathwork journeys and retreats.
See our schedule and save the dates below!
ALL EVENTS REQUIRE REGISTRATION. Please follow the links below to register.
---
New York & Massachusetts
Saturday, April 7
New York, NY: Amazonian/Tibetan Primordial Breathwork W/ Ceremonial Cacao
Sliding Scale Contribution: $35 – 50
(or both sessions April 7 & 8 for $60 – 100 sliding scale)
Location: Gibney Dance, 280 Broadway (enter @ 53A Chambers), Studio V, New York City
Time: 11:40am – 4:00pm
Learn More & Register >>
Sunday, April 8
New York, NY: Amazonian/Tibetan Primordial Breathwork W/ Ceremonial Cacao
Sliding Scale Contribution: $35 – 50
(or both sessions April 7 & 8 for $60 – 100 sliding scale)
Location: Gibney Dance, 280 Broadway (enter @ 53A Chambers), Studio V, New York City
Time: 11:40am – 4:00pm
Learn More & Register >>
Monday, April 9
Great Barrington, MA: Amazonian/Tibetan Primordial Breathwork W/ Ceremonial Cacao
Sliding Scale Contribution: $35 – 50
(or both sessions April 9 & 10 for $60 – 100 sliding scale)
Location: SRUTI Berkshire Yoga Center, 33 Railroad Street, Great Barrington, MA 01230
Time: 6:00 – 10:00pm
Learn More & Register >>
Tuesday, April 10
Great Barrington, MA: Amazonian/Tibetan Primordial Breathwork W/ Ceremonial Cacao
Sliding Scale Contribution: $35 – 50
(or both sessions April 9 & 10 for $60 – 100 sliding scale)
Location: SRUTI Berkshire Yoga Center, 33 Railroad Street, Great Barrington, MA 01230
Time: 6:00 – 10:00pm
Learn More & Register >>
Friday, April 13 – Monday, April 16
New York FORM & FORMLESS RETREAT
Contribution: $350 – 500 Sliding Scale
Location: Catskill, NY
Learn More & Register >>
Michigan
Friday, April 20
Ann Arbor, MI: Amazonian/Tibetan Primordial Breathwork W/ Ceremonial Cacao
Sliding Scale Contribution: $35 – 50
Location: A2Yoga, 2030 Commerce Blvd, Ann Arbor, Mi 48103
Time: 6-10pm
Learn More & Register >>
Illinois
Saturday, April 21st
Chicago, IL: Amazonian/Tibetan Primordial Breathwork W/ Ceremonial Cacao
Sliding Scale Contribution: $35 – 50
Location: Yogaview, 2211 N Elston Ave, Ste 200, Chicago, Illinois
Time: 3 – 7pm
Learn More & Register >>
Colorado
Tuesday, April 24
Denver, CO: Amazonian/Tibetan Primordial Breathwork W/ Ceremonial Cacao
Sliding Scale Contribution: $35 – 50
Location: Human Universal Education Center, 455 S. Hudson St., Ste 101, Denver, CO 80246
Time: 6-10pm
Learn More & Register >>
Thursday, May 3 – Sunday, May 6
Colorado FORM & FORMLESS RETREAT
Contribution: $350 – 500 Sliding Scale
Location: Placerville, CO
Learn More & Register >>
Friday, May 11 – Monday, May 14
PRIMORDIAL BREATHWORK INTENSIVE
Contribution: $350 – 500 sliding scale
Location: Crestone, CO
Learn More & Register >>
Facilitators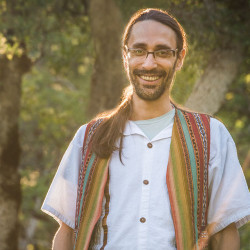 Roman Hanis
Roman Hanis has been working closely with the indigenous Peruvian cultures in the Amazonian rainforest and Andean mountains since 2001. During this time he has devoted this life to learning the ancient healing ways of these cultures while seeking possibilities for creating ecological sources of sustenance for local populations and working to preserve the rainforest and its spiritual heritage of sacred medicinal plants. Seeing the vital role that ancient cultural…
Learn more about Roman Hanis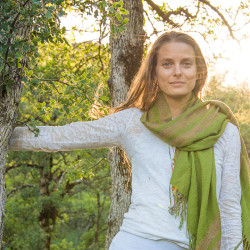 Cynthia Robinson
Since childhood, Cynthia Robinson has had a deep love for nature and natural healing. She always knew she would devote her life in service to the healing of people and the planet. Cynthia got her BA at the University of Michigan School of Art and Design with a focus in Design, Communication and Creative Problem Solving. After graduation, she pursued her passion to bring deeper values for nature and humanity…
Learn more about Cynthia Robinson