Shamanic Permaculture Design Certificate Course
Facilitated by Andrew Jones, Cynthia Robinson and Roman Hanis
October 23 - November 24, 2016
Healing Inner & Outer Landscapes
Join us for a one month immersive Shamanic Permaculture Design Certificate (PDC) Course in the remote mountains of Peru where the Andes and the Amazon Meet.
The goal of the course and the center is to share and inspire how we can live in sustainable and harmonious relationship with nature while creating a supportive, self sufficient and nurturing community around us. Weaving together the teachings of permaculture design, hands on experience, and the interconnection of our inner and outer landscapes we will immerse ourselves into a deep exploration of nature and the ways we can co-evolve and heal together.
The common thread between Shamanism and Permaculture is that nature is our teacher and the principles of Permaculture can be applied to many facets of our life both on both micro and macro scale. 
During this course we encourage our participants to connect with nature from the inside out as we unravel the interconnection of our inner and outer landscapes. Entering the high jungle, we will experience deeply how we are interconnected with this magnificent organism, earth. Permaculture design study will be woven with learning to be in deeper relationship with ourselves.
Internationally Recognized Permaculture Design Certification
Permaculture provides a design approach that allows us to create resilient and productive systems using natural ecosystems as our model. In this 33 day intensive hands-on training we will cover the complete 72 hour Permaculture Design Certificate training along with ample hands on experience to reinforce classroom learning. We will work from broad design principles to the specifics of system design for maximizing productive food systems, water management, waste management, community infrastructure and harmonizing with the abundant energies of nature.
During roughly 50% of our time, students will have an opportunity to play a hands-on, experiential role in the further conceptual development, design planning, and implementation of our Permaculture Education Center at the Paititi Institute grounds where the course will be held. At the base of the land is the most sacred river to the Quero, Machiguenga and Huachipari tribes, the River Mapacho, at 1800 meters elevation. At the land's peak we border one of the largest reserves of South America, Manu, at an altitude of around 3800 meters. Through its unique position on the edge of the Andes Mountains and the Amazon Rainforest there exist three distinct ecological climate zones allowing for an incredible variety of learning opportunities on one site and with surrounding communities. We can grow all the tropical foods at the base such as yuca, plantains, avaocados and mangos; all the amazing temperate climate foods such as apples, peaches, pears and leafy greens; and all the high sierra plants at the property's peaks, including quinoa and potatoes. There is fresh and pristine spring water, old growth forest, over 20 waterfalls, majestic peaks, rich fertile soil, ancient ruins nearby and infinite magic yet to be discovered.
The intention of the center and our design: To develop and maintain fully sustainable, wholistic, regenerative and harmonious systems activating the full potential of mother earth and humanity.
The Permaculture Design Certificate course is an internationally recognized course resulting in a Permaculture Design Certificate. In order to receive this certification, participants must be present for the full course. Download a PDF of the course curriculum here: PAITITI PDC Curriculum
Shamanic Approach
As humans, we are inexorably linked to the natural systems around us for our sustenance – physical, spiritual, mental and economic. We all have potential for massive abundance of energy, health and vitality – this is in fact our birthright and available to us through the application of appropriate knowledge related to living choices. In order to be in true harmony with our natural environment, we must also attune to the inner environment of our own bodies,  as well as our thoughts, words and emotions.
Shamanic Permaculture in it's essence is this intention to unravel what it truly means to be a human in service for the benefit of all life and the path to this service is through knowing one's own true nature and self. As an essential and core part of this process we will be exploring deeply what it means to be stewards of nature, stewards of our personal body temples and stewards of harmonious community.
We will incorporate with nutrition, Qigong, Yoga, healing breath, dreamwork, sacred plant ceremonies and eastern meditation practices throughout the course to activate deeper vitality and a realignment of the energetic channels of our organism.
For more information regarding our approach to Shamanic Permaculture read the following blog article HERE >>
Indigenous Ceremony
As part of the course participants will have an option to partake in ancient Amazonian indigenous ceremonies of Ayahuasca and Andean culture of San Pedro and Coca. All of these plants have been declared to be a national heritage and cultural treasure of Peru. This healing tradition is considered to be an uninterrupted live transmission lineage going back to times immemorial carrying illuminated reminders from the period of humanity when the ancestors were fully immersed in the primordial enlightened essence of humanity's true nature. For more info on these practices please review our Info & Prep Document.
Participation Requirements
Full participation is required and participants will not have the opportunity to leave the center during the course except in the case of an emergency. If you do chose to leave site you may miss essential course material required for certification.
Participants should be healthy and in good physical shape. During this program you will be on your feet a lot. At this time, while the road is still being built, there is a 2+ hour hike into the property. In addition, many tasks on the property itself involve steep ascents and descents.
Participants should be comfortable living in a tent, taking cold showers, living with minimal solar electricity, solving unexpected challenges with a positive attitude, and hiking steep terrain.
Participants must be minimum 21 years old. Younger participants may be accepted with a letter of recommendation. Contact us to discuss.
Participants must be physically and mentally healthy and stable. If you have a chronic and or debilitating health condition this program is not appropriate for you at this time. Instead we are happy to work with you as a patient where we can offer the proper support in your healing process. Read more about working with us as a patient >>
Travel Insurance with minimum of 100K of emergency evacuation coverage (More details in the Info & Prep Document).
Contribution
The contribution for this retreat is based on a sliding scale. Participants are welcome to offer any amount within the sliding scale range. The sliding scale categories are as follows:
$1,700.00 – Program Price with Early Bird Discount (till May 16th, 2016)
$1,900.00 – Program Price
A non-refundable deposit of 30% is due in full at the time of registration. If we are not able to accept you into the retreat, the deposit will be refunded. Contribution includes all food, instruction, guidance & personal support, ceremonies, plant medicines, the stay on a pristine land, and transportation from and back to the Sacred Valley during this 33 day course. Any profits are devoted to the continuation of this worthy cause for the benefit of all beings. More details can be found in the Info & Prep Document.
Facilitators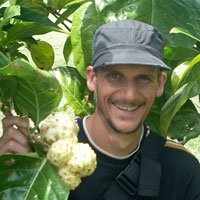 Andrew Jones
Andrew Jones is a permaculture designer & teacher and sustainability/wellness consultant. He has been on a lifelong journey to integrate his path of right livelihood with his interests and passion for cultural exploration, nature and sustainability, wellness, and a dash of adventure. This has led him to gain a B.Sc. in ecology and a postgraduate diploma in Environmental Management and Development. His career path has incorporated humanitarian aid, international development,…
Learn more about Andrew Jones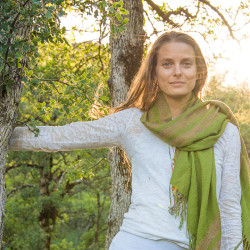 Cynthia Robinson
Since childhood, Cynthia Robinson has had a deep love for nature and natural healing. She always knew she would devote her life in service to the healing of people and the planet. Cynthia got her BA at the University of Michigan School of Art and Design with a focus in Design, Communication and Creative Problem Solving. After graduation, she pursued her passion to bring deeper values for nature and humanity…
Learn more about Cynthia Robinson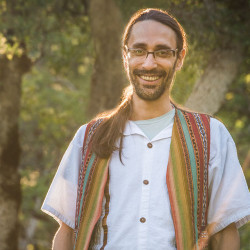 Roman Hanis
Roman Hanis has been working closely with the indigenous Peruvian cultures in the Amazonian rainforest and Andean mountains since 2001. During this time he has devoted this life to learning the ancient healing ways of these cultures while seeking possibilities for creating ecological sources of sustenance for local populations and working to preserve the rainforest and its spiritual heritage of sacred medicinal plants. Seeing the vital role that ancient cultural…
Learn more about Roman Hanis