Dr. Andrew MacLean Pagon MD PhD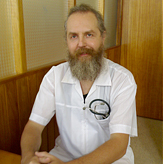 Dr. Andrew MacLean Pagon studied at the Tianjin International University of Modern and Traditional Medicine and Pharmacology – MB (Medicinae Baccalaureus) ChB (Baccalaureus Chirurgiae), where he graduated in 1996 specialising in modern and traditional medicine.  In year 2000 he completed a PhD (Philosophiae Doctor) in the history of medicine at the Open Univeristy in Sri Lanka in collaboration with Dr Chandan Raychaudhuri, a former secretary of the Asiatic Society, Kolkata, India (erstwhile Asiatic Society of Bengal, founded in 1784 CE, by Sir William Jones, a British lawyer and Orientalist). In 2006 he completed a Superior Research and Clinical Studies in Medicine and Psychiatry leading to a Doctorate in Medicine (MD –  Medicinae Doctor) and a Doctorate in Clinical Psychiatry (Sub-speciality in Integrated and Transcultural Clinical Psychiatry) at Tianjin Medical University. This was under the supervision of Academician Professor Dr. Wu Xian Zong, expert from the WHO.
Dr. Andrew MacLean Pagon has lived and work in many different countries and cultures accross the globe including the UK, Denmark, Italy, Slovenia, Austria, Spain, China, Sri Lanka, India, Japan, Mongolia, Canada, USA, Australia, Ecuador, Brazil, Bolivia, Chile, Colombia and Peru givening him a unique understanding of the transcultural aspects of medicine and psychiatry. He has in addition worked at numerous hospitals and private clinics continuously practicing an integrated and transcultural form of medicine and psychiatry.
Research activities and positions include currently holding a position as Senior Consultant psychiatrist at Medical Centre, Ricardo Palma Clinic, Plaza Lima South, Chorrillos Lima having his private clinical practice in Miraflores (Lima) and conducting field research in medicinal and psychoactive plants in the coastal, Andes and Amazon regions of Peru.
Profession: Licenced medical doctor, psychiatrist (Sub-speciality Integrated and Transcultural Psychiatry) and psychotherapist
Qualifications: Senior consultant in General Medicine and Psychiatry (Sub-speciality Integrated and Transcultural Psychiatry)
Specialty: Clinical medicine and psychiatry- psychiatric, psychological and psychosomatic disorders in both adults and children
Memberships: Chinese Ministry of Health- Chinese Medical Association, Chinese Association of Psychiatrists, and Chinese Integrated Medicine Association (as Integrated and Transcultural Psychiatrist), World Medical Association (WMA), World Psychiatric Association (WPA)
Memberships in Peru: Peruvian Medical Association, Peruvian National Register of Medical Specialists, Peruvian Psychiatric Association (APP) (associated member)
Languages: Fluent in English, Spanish and Mandarin Chinese