Primordial Breathwork™ Teacher Training 2024
Facilitated by Roman Hanis
September 1 - 30, 2024
Primordial Breathwork™ was developed by Paititi Institute over the last 13 years and Roman Hanis as the main facilitator over the last 18 years. Throughout this time, many individuals have benefited from this practice and expressed interest to become facilitators.
Primordial Breathwork™ is inspired by indigenous Amazonian and Tibetan traditions, supported by Transpersonal Psychology. The cosmology and theoretical background of this practice relates to the hero's conscious journey towards the original state of blissful divine union, as mirrored in ancient cultures and spiritual traditions around the world. That state of presence is recognized as the source of all creative potential and is vital in evolutionary healing.
To embark in the teacher training program, it's essential to commit to this journey of evolutionary healing in one's life and Paititi Institute's role is to create a community of facilitators that support each other in this continuous journey of evolution.
The Teacher Training program involves study on both the physical technique and underlying psychosomatic theory for facilitators to embody and safely support others in practice and integration. Topics covered include:
In-depth technique

Training for group and individual guidance

Cultivation of emotional intelligence

Cellular memory activation and catharsis

Communicating with body language

Physical, energetic and dream connection through Shamanic Transpersonal Dreamwork

Shamanic Symptomatic Dance

Contraindications

Integration

Creative processing

Transmission of natural states
Indigenous Ceremony:
As part of the training participants will have an option to partake in ancient Amazonian indigenous ceremonies of Ayahuasca and Andean culture of San Pedro and Coca. All of these plants are recognized as national heritage and cultural treasure of Peru. These healing traditions are links to uninterrupted live transmission lineages going back to times immemorial. At Paititi we deeply honor these illuminated reminders from those ancestors who were fully immersed in the original enlightened essence of humanity's true nature. For more info on these practices please review our Program Overview Document (coming soon). 
Prerequisite Credits:
To be eligible to attend this 3-week Teacher Training, 60 credits must be accumulated over a 4-year period. At least 30 of these credits must be completed before the training. Certification is provided once the 3-week Teacher Training program is complete, all 60 credits are earned, and there's a demonstration of competency.
Credits are offered for most of the Paititi Institute programs as outlined below. At least one of the starred items* must be included:
33-day Embodying True Nature Retreat*: 30 credits

7-week Transformation Track Work Study Service*: 20 credits

10-day Embodying True Nature Retreat*: 15 credits

16-day Embodying True Nature Retreat*: 20 credits

Form & Formless Retreat (4 day)*: 10 credits

Shamanic Permaculture Design Certificate Course (30 day): 10 credits

Primordial Breathwork™ Retreat (4 day): 10 credits each

Primordial Breathwork™ Sessions (4 hours): 3 credits each
The prerequisites allow for those on the facilitation track to establish a solid foundation of the theory and practice, simultaneously committing to one's own path of personal growth. Those serious about pursuing the teacher training are encouraged to join the interest list even before the pre-requisites are complete (no deposit required).  If you have questions about your credits please feel free to reach out and talk with us personally!

Be sure to check out the Friends of Paititi program for consecutive program discounts.
Maintaining Certification:
In order to maintain an active certification on our list of official certified facilitators, it's essential to continue your learning process. The following is required:
Facilitators must participate in one of the following programs at least once every 3 years. Special facilitator discounts will be available:




-Embodying True Nature Retreat




-Special Primordial Breathwork™ Facilitators Retreat (offered about every 2-3 years)




-Transformation Track Work Study Service

Facilitators must join as a participant in at least 2 Primordial Breathwork™ sessions held by another certified facilitator a year.

Join at least once a year for an online check-in to discuss questions, concerns and insights. These online check-ins may be held in groups or individually.

Adhere to our Ethical Guidelines  [coming soon].
Location & Lodging:
The certification will be held in Urubamba, Peru at Casa De Campo. There are 3 lodging options.

Private rooms with private bathrooms
Shared rooms with private bathrooms
Camping
*Note Private Rooms may be available as space allows for an additional charge. Private rooms will be offered in the weeks before the start of the program. If you would like to be on the waitlist for a private room you are welcome to make a note/request in your application or send us an email. 
Teacher Training Retreat Contribution:
Program Contribution:
Shared room with Private Bathroom (shared with one other person): $4200 USD

Communal Room with Communal Bathroom (shared with up to 7 others): 3950 USD

Camping with Communal Bathroom (participant must supply camping gear): $3700
Discounts:
$200 discount for Early Bird Registration by February 1st, 2022.
Additional discounts may be announced once the location is finalized.

Contribution includes all food, instruction, guidance & personal support, ceremonies, plant medicines, the stay on a pristine land, and transportation from and back to the Sacred Valley during this three week retreat. Any profits are devoted to the continuation of this worthy cause for the benefit of all beings.
Application Process:
If you're inspired to initiate your journey as a facilitator and have accumulated your 30 pre-requisite credits, please fill out the application here.
If you have not yet completed your credits you can fill out the interest list application HERE and we'll be happy to work together with you to determine the best approach for you to complete them. Once you've completed the minimum 30 pre-requisite credits, you are welcome to transfer your application from the interest list to the registration list with a 30% deposit. The Teacher Training Retreat will be offered every 2-4 years depending in interest.
Terms & Refund Policy:
We accept deposits via credit card which is made during the online application process.  If you are not accepted to join for the program, your payment will be fully refunded.

Your remaining balance can be made via credit card with a 3.9% merchant fee added on (please contact us if you wish to make the final payment via CC). Your remaining balance can also be submitted in cash (USD) on the first day of the program. Please bring CRISP, UNRIPPED dollar bills as we cannot use old or damaged bills here in Peru.

All deposits are non-refundable with exceptions made when its Covid related. If cancelled due to Covid illness or travel restriction we will fully refund or transfer your deposit. If canceled for any other reason ahead of time we can transfer the deposit to a future program minus a 10% admin fee.

All contributions are non-refundable and non-transferable once the program begins.

We reserve the right to cancel this retreat if our minimum number of participants isn't met 4-weeks prior to the start date. All payments will be fully refunded if the program is canceled.

Additional terms are outlined in our "

Terms, Conditions, Release Of Liability & Assumption Of Risk

" document which each participant agrees to by submitting an application.
Facilitator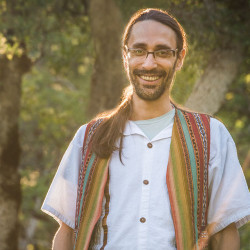 Roman Hanis
Roman Hanis has been working closely with the indigenous Peruvian cultures in the Amazonian rainforest and Andean mountains since 2001. During this time he has devoted this life to learning the ancient healing ways of these cultures while seeking possibilities for creating ecological sources of sustenance for local populations and working to preserve the rainforest and its spiritual heritage of sacred medicinal plants. Seeing the vital role that ancient cultural…
Learn more about Roman Hanis