LIVE Zoom Series – Alchemy of Immortality QiGong
Facilitated by Roman Hanis
September 19 - 21, 2023
---
Virtual Intercultural Bridges Series: Vital force Wielding Practices
Join us for a profound daily vitality practice. Each day we will share a different aspect of the life-force wielding practices we work with at Paititi Institute. These practices are based on a Spirit Medicine QiGong cultivation bridging an Andean art of being as essential steps in remembering our greatest natural potential. The practices open the energy channels of the organism allowing for a deeper connection with the vital power of organic intelligence inside and out. Did you know that there have actually been official studies showing that Qigong boosts the immune system? Here is one: https://www.ncbi.nlm.nih.gov/pubmed/15173671
We are inspired to share these practices in this online accessible format as an encouragement for a greater vitality to be awakened in your life.
This is an optional donation based event and the suggested contribution for the total series is a sliding scale of  $15-100 USD. It is ideal to attend the sessions live as we have found the shared live connection among us, even through a distance to support the effectiveness of the practices. With that said if you are not able to make the session live a recording will be shared with all registered participants daily.
Classes will be held via a Zoom. Directions for login will be sent upon registration.
Schedule overview:
Each session will include a demonstration through out the practice session and a closing meditation. Integration Q&A time will be included time allowing.

Tuesday, September 19
9:30am – 11:00am Peru Time (GMT-5)
Wednesday, September 20
9:30am – 11:00am Peru Time (GMT-5)

Thursday, September 21
9:30am – 11:00am Peru Time (GMT-5)

***All information provided here is for educational purposes only. It is not intended to be a substitute for professional medical advice, diagnosis or treatment. Always seek the advice of your physician or other qualified health care provider with any questions you may have regarding a medical condition or treatment and before undertaking a new health care regimen, and never disregard professional medical advice or delay in seeking it because of something you have read here or elsewhere.
Facilitator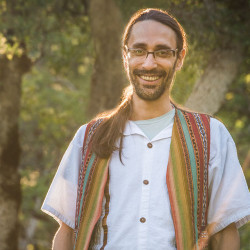 Roman Hanis
Roman Hanis has been working closely with the indigenous Peruvian cultures in the Amazonian rainforest and Andean mountains since 2001. During this time he has devoted this life to learning the ancient healing ways of these cultures while seeking possibilities for creating ecological sources of sustenance for local populations and working to preserve the rainforest and its spiritual heritage of sacred medicinal plants. Seeing the vital role that ancient cultural…
Learn more about Roman Hanis