Colorado Form and Formless Transformation Retreat
Facilitated by Roman Hanis and Janel Possiel
September 2 - 5, 2022
Ancestral Wisdom to Unlock Your Infinite Potential
This retreat explores the theoretical and experiential groundwork of the shamanic transformation and healing process, drawing intercultural bridges between various indigenous cultures of the world. With the support of indigenous Dreamwork perspectives, Jungian transpersonal and Buddhist psychologies, Primordial Breathwork and sacred geometry, we start remembering the universal language of evolutionary healing expressed throughout the world's ancient cultural wisdom. While the wisdom of all ancestral traditions is sacred, in this retreat we focus mainly on Amazonian, Andean, and Tibetan living wisdom lineages with the support of several Chinese and Hindu practices which the facilitators have studied and benefited from personally.
In this retreat we focus on grounding into these indigenous wisdom traditions with the foundational daily practices that consciously bring balance and stability to each of our hero's journeys towards the freedom of unlimited potential. Cultivating living wisdom through skillful means of ancestral practices, intentional engagement of heart presence, music/song circles, healthy nourishment and body movement allows for steady steps in the here and now to dream awake the evolutionary purpose of every moment.
READ MORE ABOUT THIS RETREAT >>
Practices:
The practices in this retreat were shared with Roman Hanis and Cynthia Robinson directly by the elder holders of the ancient lineages from the Amazonian tribes of Ashuar, Whitoto and Yahua, Andean Incan descendants, Q'ero and Quechua people as well as Tibetan Lamas from the traditions of Karma Kagyu, Bonpo Dzogchen, Nyingma and Gelugpa and have been practiced in this format since 2001. The practices you'll learn in this retreat are transmitted as distinct "Waves", each uniquely complementing the ancestral principle of reciprocity and synergy of life. They're progressive stages of maturation in the individual's river of consciousness as we remove all blockages that cause separation from the limitless ocean of divine intelligence. These practices include:
Wave of Remembering: Through remembering, we learn how to release tensions and emotional charges in the form of fears, inhibitions, repressed emotions and traumas from the past, while simultaneously awakening the unconditional primordial essence as a cause for timeless well-being.
Wave of Dreaming: With the help of Jungian transpersonal psychology, indigenous dreaming 
perspectives, and sacred geometry, we can remember the universal language of evolutionary healing.
Wave of Wind Breath: Each day we will embark on an experiential journey through a cathartic Breathwork practice that blends Amazonian and Tibetan traditions. This practice is a deeply meditative, heart-activating and potentially cathartic experience that revives the cellular memory of the whole organism. Breathwork sessions are accompanied by ceremonial cacao.
Wave of Process-Oriented Symptomatic Dance: This shamanic healing modality intuitively follows the organism's symptoms to their origin of the dreaming language and supports us to disentangle the knots of conditioning at their root.
Contribution
$380-600 sliding scale
Food
Healthy organic vegan food will be provided.
Lodging
We will be gathering on a beautiful wooded property in Boulder.
Option 1: Indoor camping in the yurt temple space and house. Please bring anything you will need to be comfortable (sleeping pad, sleeping bag, pillow, etc.)
Option 2: Outdoor camping in your personal tent. Again, please bring everything you will need to be comfortable.
Our host may have a couple beds available in a near by cabin for an extra charge. If you interested in these please let us know. We would like to hold them as a first priority for any elders or those with physical challenges.
Terms & Refund Policy
We accept a $150 deposit via credit card which is made during the online application process. If you are not accepted to join for the program, your payment will be fully refunded.
Your remaining balance is to be submitted in cash (USD) on the first day of the program or via credit card anytime before the start of the retreat. Please note that there is a 3.9% merchant fee for all credit card transactions.
All deposits are non-refundable with exceptions made when its Covid related. If cancelled due to Covid illness or travel restriction we will refund or transfer your deposit. If canceled for any other reason ahead of time we can transfer the deposit to a future program.
The contribution is non-refundable and non-transferable once the program begins.
We reserve the right to cancel this retreat if our minimum number of participants is not met 2 weeks prior to the start date. All payments will be fully refunded if the program is canceled.
Additional terms are outlined in our "Terms, Conditions, Release Of Liability & Assumption Of Risk" document which each participants agrees to by submitting an application.
Facilitators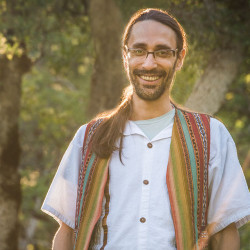 Roman Hanis
Roman Hanis has been working closely with the indigenous Peruvian cultures in the Amazonian rainforest and Andean mountains since 2001. During this time he has devoted this life to learning the ancient healing ways of these cultures while seeking possibilities for creating ecological sources of sustenance for local populations and working to preserve the rainforest and its spiritual heritage of sacred medicinal plants. Seeing the vital role that ancient cultural…
Learn more about Roman Hanis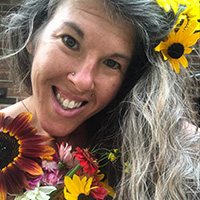 Janel Possiel
Janel shares her vitality and inspiration through yoga as a vehicle for everyone to explore essential empowerment principles that can be applied throughout daily life, and in turn, share wellbeing with all others and our planet. Janel's intention is to guide each person through each journey to be nourished, centered, and embodied in their own true essence through mindful movement, breath, and reflection. Janel facilitates what she calls "Maitiri Movement," …
Learn more about Janel Possiel