Ukiah, CA: Primordial Breathwork™ & Hot Springs Retreat
Facilitated by Roman Hanis, Cynthia Robinson and Emily Goughary
April 2 - 5, 2020
Join us for an immersion into the ancestral healing breath, ceremonial cacao and healing hot spring waters.
Inside all of us, an original primordial state of peaceful loving kindness is always present, existing on the level of cellular memory. When we look deeply, beyond the veil of matter and mind, this state and the universal truth that accompany it are discovered to be embedded within us all. Given the psychosomatic sources of tension and disease, it is clear that an embodied practice is necessary for the process of transformation in order to re-integrate this state. In this retreat, we will be catalyzing the original state of being through Primordial Breathwork™, Qigong, Meditation, Creative/Artistic Expression, Music and Immersion in Nature… and hot springs!
Each day we will engage in Primordial Breathwork™, a unique and cathartic breathwork practice inspired by the Amazon and Tibet ancestral lineages. This practice is often a deeply meditative, heart activating and transpersonal experience that revives the cellular memory of the whole organism and brings aspects of the past to the surface to be remembered and healed. Everyday we will go deeper into the breathwork, practicing for longer sets of time and integrating ceremonial cacao with the practice to enhance the body's energy flow.
After each session integration will involve sharing circles, immersion in nature, time to soak in the hot springs and creative expression of many forms (painting, dancing and music).
About our Amazonian/Tibetan Primordial Breathwork™ Practice:
This multidimensional practice rekindles your original connection with the essence of vitality by awakening inherently natural, higher vibrational frequencies of your organism. The practice also aids in the location and elimination of psychosomatic sources of disease, tensions, inhibitions and repressed emotions. Ancient, cathartic and healing breath patterns are applied throughout the ceremony, activating and purifying your being at the cellular level.
This ancient practice is somewhat similar to more recently developed methods, including the Rebirthing method by Leonard Ore, and Holotropic Breathwork by Stanislav Grof. Primordial Breathwork however is rooted in living inter-generational wisdom , reflected in both Tibetan and Amazonian cultures as a conduit of experiential insight into the nature of existence. Another distinct benefit of this practice is the synchronization of the breath via awareness, sound, drumbeat and cyclical rhythm, which ultimately reveals the pulse of life force in nature to be an infinitely diverse and unified consciousness.
The cosmology and the theoretical background of this practice relates to the hero's conscious journey towards the original state of unconditional presence. In Tibetan and Amazonian cultures, this origional state of being is a most vital evolutionary portal to an infinite source of creative life force. This experiential practice cultivates a deeply restful state, allowing life force to flow and be expressed more freely.
An optional and complementary ceremonial cacao drink is offered at the event. Cacao is an ancient Amazonian plant spirit invoked for a heart-soul awakening of the energetic and emotional transformation.
IMPORTANT Preparation Information & Contradictions: If you're taking any pharmaceutical medications or have a history of mental illness, a heart condition, or are pregnant, you must inform us prior to the retreat. These questions will be asked on your application form.
Food
Healthy organic and vegan food will be provided.
Meals included:
Thursday, April 2nd: evening snack
Friday, April 3rd: breakfast, lunch and dinner
Saturday, April 4: breakfast, lunch and dinner
Sunday, April 5: breakfast, noon snack
Accommodations
All participants will have a bed in shared rooms. Bedrooms have a half bath. Showers are located at the hot spring pool area.
Check in on April 2nd: Retreat registration and room checkin between 4-5pm. Participants will have access to the hot springs starting at noon and are welcome to come early to soak.
Check out on April 5th: The retreat will close on Sunday, April 5 at noon. Bedrooms will also need to be vacated at this time for cleaning. Participants will have access to the hot springs till 2pm.
Please note: We have reserved a specific private area of Orr Hot Springs Resort for this retreat. There is no need to contact Orr Hot Springs for lodging as we will handle this through your registration with Paititi Institute. In the area we have reserved for our retreat, private rooms are not available. If a private room is important for you, you may be able to rent one directly from Orr Hotsprings for an additional charge. Please apply for the retreat before contacting Orr Hot Springs in this case.
Contribution
$650.00 to $850.00 – Sliding Scale Contribution
Please note that we had to raise the price of this retreat above our normal rates due to the higher facility rental rates at this hot spring location. Retreat instruction and guidance, lodging, entry to the hotsprings, and organic food are all included. A non-refundable credit card deposit of $200 USD is due upon registration and will be refunded if you are not accepted into this program for any reason. The remainder of the contribution will be paid in cash on the first day of the program. Please review our refund policy before registering.
Terms & Refund Policy
We accept deposits via credit card which are made during the online application process. If you are not accepted to join for the program, your payment will be fully refunded. Your remaining balance is to be submitted in cash (USD) on the first day of the program.
Your deposit is non-refundable but if you cancel within 6 weeks of the program start date, we can transfer your deposit to a future program minus a 10% admin fee.
For cancellations within 6 weeks of the start date, payments are non-refundable and will only be transferable to a future program if we can fill your place in the retreat. We will try our best to do so.
The contribution is non-refundable and non-transferable once the program begins.
We reserve the right to cancel this retreat if our minimum number of participants is not met by March 1st prior to the start date. All payments will be fully refunded if the program is canceled.
Facilitators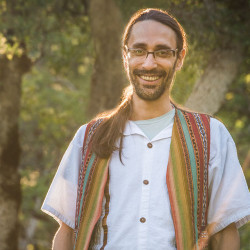 Roman Hanis
Roman Hanis has been working closely with the indigenous Peruvian cultures in the Amazonian rainforest and Andean mountains since 2001. During this time he has devoted this life to learning the ancient healing ways of these cultures while seeking possibilities for creating ecological sources of sustenance for local populations and working to preserve the rainforest and its spiritual heritage of sacred medicinal plants. Seeing the vital role that ancient cultural…
Learn more about Roman Hanis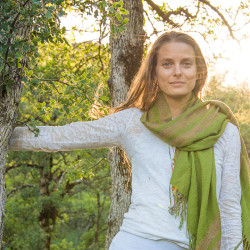 Cynthia Robinson
Since childhood, Cynthia Robinson has had a deep love for nature and natural healing. She always knew she would devote her life in service to the healing of people and the planet. Cynthia got her BA at the University of Michigan School of Art and Design with a focus in Design, Communication and Creative Problem Solving. After graduation, she pursued her passion to bring deeper values for nature and humanity…
Learn more about Cynthia Robinson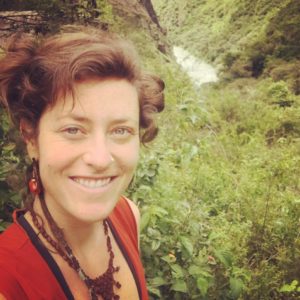 Emily Goughary
Emily has always loved the mountains. From growing up hiking in the Adirondack Mountains of upstate New York, to exploring ski towns and farming communities in the Rocky Mountains of Colorado, she feels right at home at Paititi's Center in the heart of the Peruvian Andes. For the past 6 years she has been deeply connecting to the living wisdom traditions and lineages that Paititi Institute works with and embodies.…
Learn more about Emily Goughary