Ann Arbor, MI: Breathing Ancestral Wisdom Alive [Talk and Q&A with Roman Hanis]
Facilitated by Roman Hanis
May 21, 2019
This informational talk, led by Roman Hanis, focuses on the origin and spiritual disciplines within the Amazonian and Andean indigenous traditions and their practical benefit in our modern world.
Storytelling was an essential element for transmitting living wisdom in many ancient societies. Ancestral lineages of mystery initiation in many cultures helped unravel highest evolutionary potential via a blueprint encoded in the storytelling.
The discourse builds intercultural bridges by deciphering the Ando-Amazonian creation myths and cosmologies to be blueprints on healing dis-eases through the ancestral science of consciousness expansion.
The different methods that unlock our inherent infinite potential for healing and evolution can now be demystified and recognized as relevant tools both on the individual and collective levels not just in exotic destinations but in everyday life.
Rather than cherry picking one practice or magical potion, this talk focuses on the greater context of your whole life experience as the essential context necessary to navigate the ancestral blueprints of the hero's journey.
The intercultural bridges we're creating together tap into millenia of inherited wisdom from the world's ancestors. These gifts are more available to us today than in any previous time in history.
CONTRIBUTION:
–
$10.00 - $20.00
Facilitator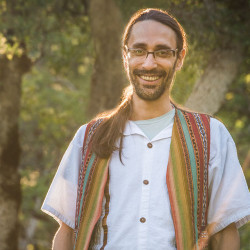 Roman Hanis
Roman Hanis has been working closely with the indigenous Peruvian cultures in the Amazonian rainforest and Andean mountains since 2001. During this time he has devoted this life to learning the ancient healing ways of these cultures while seeking possibilities for creating ecological sources of sustenance for local populations and working to preserve the rainforest and its spiritual heritage of sacred medicinal plants. Seeing the vital role that ancient cultural…
Learn more about Roman Hanis