Transformation Track Work Study Service
Facilitated by Anthony Bossler, Elton Lee Abela, Stella Maillot and Roman Hanis
July 2 - August 24, 2019
This is a special service opportunity for a small handful of people that have an inspiration toward consciousness transformation work. Participants will have the opportunity to be present and support in the transformation process during our 33-day Embodying True Nature Retreat.
During this time, the first priority of all service participants will be to support the needs of the retreat. This includes but is not limited to, working in the kitchen, cleaning, and being available to support facilitators' and retreat participants' needs. Service participants will have the opportunity to be in the energy field of the retreat group and will be included in an introduction to many of the different practices that we will be working with, including most lectures given during the retreat, some Primordial Breathwork and dreamwork sessions, and some ceremonies. Read more about the Embodying True Nature retreat participants will be supporting >>
When not needed to support the retreat group, participants will also have the opportunity to work on permaculture and infrastructure projects on the land.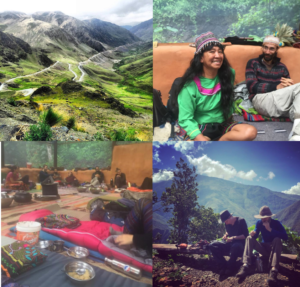 Participation Requirements
It is required to join for the full program. Participants may not have the opportunity to leave the site during this time except in the case of an emergency and should arrange their personal affairs so that it will not be necessary to leave.
Participants should be healthy and in good physical shape. During this program you will be on your feet all day and will do a lot of walking in the mountains. At this time, while the road is still being built, there is a 2-8 hour hike into the property (depending on fitness and experience level of each participant). In addition, most tasks on the property itself involve steep ascents and descents.
Because participants will be supporting a sensitive transformation process, we are seeking service participants who have a foundation in personal self cultivation and spiritual practice.
There are many unknown elements as we embrace this early phase of establishing roots at the new land. We will be working with simple infrastructure. Those who join should be willing and able to embrace this with a positive, solutions-oriented attitude. Participants should be comfortable living in a tent, taking cold showers, living with minimal solar electricity, solving unexpected challenges, and hiking steep terrain.
Work study service participants must be minimum 21 years old. Younger participants may be accepted with letters of recommendation. Contact us to discuss.
All work study service participants must be physically and mentally healthy and stable. If you have a chronic and or debilitating health condition this program is not appropriate for you at this time. Instead we are happy to work with you as a patient where we can offer the proper support in your healing process.
Travel Insurance with minimum of 100K of emergency evacuation coverage (more details available in the info document).

Contribution
$1,111.00 – Transformation Track Work Study Service 7 Week Program Contribution
A deposit of 30% is due in full at the time of registration in order to hold your space. If we are not able to accept you into the program, the deposit will be refunded. Please review the Info & Preparation Package for more details on our refund policy. Some scholarships are available for local Peruvians and others from developing countries with financial limitations.
REFUND POLICY

We accept deposits via credit card which is made during the online application process.  If you are not accepted to join for the program, your payment will be fully refunded.

Your remaining balance will be submitted in cash (USD) on the first day of the program. Please bring CRISP, UNCREASED & UNRIPPED dollar bills as we cannot use old or damaged bills here in Peru. Final payments can also be made via credit card with a 3.9% merchant fee added on (contact us if you wish to make the final payment via CC)

Your deposit is 

non-refundable

 but if you cancel prior to 2 months of the program start date, we can transfer your deposit to a future program minus a 10% admin fee.

For cancellations within 2 months of the start date, payments are non-refundable and will only be transferable to a future program if we can fill your place in the retreat. We will try our best to do so.

The contribution is non-refundable and non-transferable once the program begins.

We reserve the right to

 cancel this retreat if our minimum number of participants isn't met 6-weeks prior to the start date. All payments will be fully refunded if the program is canceled.

Additional terms are outlined in our "

Terms, Conditions, Release Of Liability & Assumption Of Risk

" document which each participants agrees to by submitting an application.
View a Testimonial from a recent retreat:
Facilitators