Embodying True Nature Consciousness Transformation Retreat
Facilitated by Roman Hanis and Cynthia Robinson
July 17 - August 18, 2018
Join us at our enchanted sanctuary imbued with ancestral spirit for a hero's journey of self discovery into the infinite human potential. Together we will transcend the layers of our individual and collective conditioning in order to know and trust our eternally brilliant and indestructible true nature. In this process we immerse into the magnificent realm of Mother Nature through the native indigenous foundational practices of remembrance, initiation rites and sacred plant ceremonies while establishing intercultural bridges of seeing the emergence of awakened consciousness in all beings everywhere. Our purpose is to create a space where all participants, including ourselves, can continually discover and implement ways for a life of greatest purpose and deepest meaning.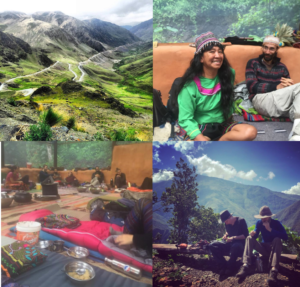 Retreat Requirements
We ask that anyone applying for this retreat be prepared to face new and unexpected challenges. We are specifically seeking participants who are inspired to approach all situations with a solutions-based attitude grounded in personal responsibility. It is important to be aware that you will have to hike into and out of the land which takes 2-8 hours one-way (depending on the fitness and experience level of each participant). The hike although very beautiful can also be challenging and you will need to carry your own pack on your back. Elders or people who may have some physical challenges (please let us know ahead of time) may be able to pack personal belongings on mules. With this said, it is a beautiful journey and everyone has been able to make it with a wide range of fitness and age levels taking it slow.
Given the circumstances at the center at this time, we can only accept participants who are in stable and good health. This specific retreat is only for individuals who are healthy. It may be possible to join us with minor health conditions if in overall good physical shape – please inquire with us before applying.  Read more about our programs for those with more serious/chronic health conditions HERE.
Being in the early stages of development at the new land, there is minimal infrastructure in place. Participants should be comfortable living in a tent, taking cold showers, living with no electricity, embracing unexpected challenges, and hiking steep terrain. All of these factors are beautiful complements towards the healing and transformation journey. Please be sure to read the Info and Preparation Package before applying for this retreat to ensure you are prepared for the journey.


Contribution
$3,700.00 – Program Price
$3,500.00 – Program Price with Early Bird Discount (extended until March 1st)
A deposit of 30% is due in full at the time of registration. If we are not able to accept you into the retreat, the deposit will be refunded. Please review the Info & Prep document document for more information on our refund policy. Contribution includes all food, instruction, guidance & personal support, ceremonies, plant medicines, the stay on a pristine land, and transportation from and back to the Sacred Valley during this 33 day retreat. Any profits are devoted to the continuation of this worthy cause for the benefit of all beings.
Testimonials
Facilitators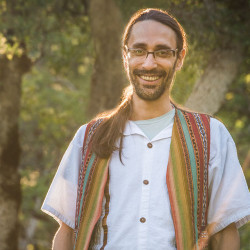 Roman Hanis
Roman Hanis has been working closely with the indigenous Peruvian cultures in the Amazonian rainforest and Andean mountains since 2001. During this time he has devoted this life to learning the ancient healing ways of these cultures while seeking possibilities for creating ecological sources of sustenance for local populations and working to preserve the rainforest and its spiritual heritage of sacred medicinal plants. Seeing the vital role that ancient cultural…
Learn more about Roman Hanis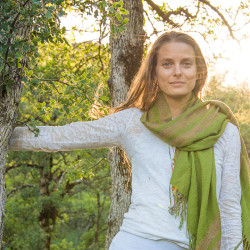 Cynthia Robinson
Since childhood, Cynthia Robinson has had a deep love for nature and natural healing. She always knew she would devote her life in service to the healing of people and the planet. Cynthia got her BA at the University of Michigan School of Art and Design with a focus in Design, Communication and Creative Problem Solving. After graduation, she pursued her passion to bring deeper values for nature and humanity…
Learn more about Cynthia Robinson